Since the legal market of cannabis emerged in parts of the United States and throughout Canada, the choices of packaging for flower have differed widely over the years. While California prefers premium glass packaging with a strong emphasis on branding, the competitive nature of Colorado drives the market to seek more economical packaging options. The ever-changing regulatory environment also influences packaging choices, with many states requiring opaque packaging and others the addition of tamper evident features.
The first Child Resistant Packages used for flower were prescription containers, such as Push and Turn Vials or Pop Tops. These packages were low cost and generally got the job done, however, while inexpensive and convenient, cannabis companies soon came to realize that vials were problematic. First, the containers are injection molded from Polypropylene (PP) – recycling code #5. Injection molding requires these containers to be tapered, making them difficult to label.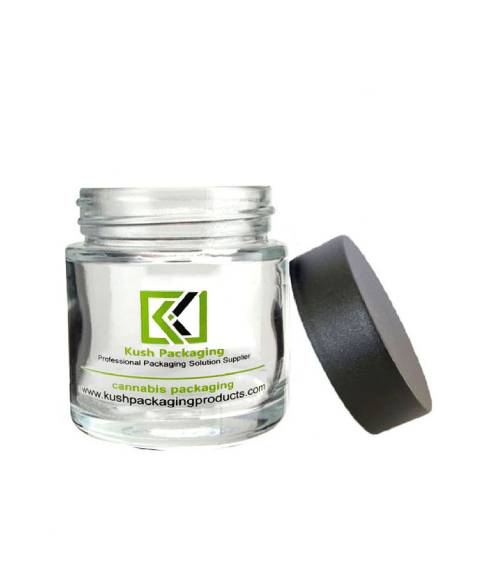 Glass Jars
Next, the free-floating inserts inside the closures rarely sealed properly and an airtight seal was rarely accomplished, allowing the flower to dry out. Third, PP material has poor oxygen barriers allowing the product to dry if stored for several months. Lastly, PP is not commonly used in the rigid container market and as such there is no recycling infrastructure.
As the market matured, cannabis packagers began to look for alternative solutions.
Mylar Bags are a low-cost option that was widely adopted for a period of time. Mylar bags are made from a multi-layered construct which consists of aluminum foil as the primary barrier and layers of PET on the inside, as well as PE or PP on the outside to keep the product away from the foil. While child resistant mylar bags are reasonably low in cost and offer the advantage of facile and inexpensive multi-color printing, the industry rapidly learned that the bags fail to protect the product. Beautiful, fluffy buds end up crushed and shake builds up in the bottom of the bag, making it difficult to access all the product.
The natural evolution from hand filling containers to high speed fully automatic weighing, filling, capping and labeling has led to the adoption of glass and plastic jars with child-resistant screw caps as the package of choice.
Screw cap child-resistant closures offer a compelling option for flower packaging. The closures can be customized at low cost using a wide variety of decorating techniques including adhesive labeling, heat transfer labeling, screen printing, digital printing, offset printing, hot stamping, water transfer printing and combinations of the above. Closures can be embossed or debossed with custom graphics providing a no cost branding option. Closures can be flat or domed, gloss or matte, shallow or tall in height. The closures can be lined with a very extensive variety of materials from expanded polyethylene, to polyethylene with foil, to induction heat seal foil liners.
Induction heat seal foil liners provide an air-tight, tamper evident seal which guarantees product freshness on either glass or plastic jars. Heat seal foil liners can be designed to form a "welded seal", requiring the liner to be destroyed in order to ensure tamper evidence, or can be supplied in a "clean peel" material allowing easy access. These foil liners can incorporate pull tabs like the "Lift 'N Peel" folded tab found on many food products. The use of an induction heat seal liner requires particular attention to the hot end and cold end coatings used during manufacture as glass has a tendency to "push off" the heat seal liner over time.
Glass jars are the gold standard for maintaining product freshness and conveying a premium feel to the consumer. For states that require opaque packaging, Glass Jars can be made from white "opal" glass, produced in color using "feeder color" technology, or spray painted with matte or gloss finishes.
Plastic jars offer a variety of material choices. Jars can be produced in Polypropylene, High Density Polyethylene, Polystyrene, or PET (Polyethylene Terepthalate) to name the most common materials.
Bottles and closures, like most products, seem simple on the surface but become complex when issues arrive. Small company or large, problems do occur. The key is finding a supplier that stands by their product and knows how to take corrective action – and quickly – when problems arise.