we've been designing clamshell & Blister Packaging for more than 50 years. These types of packages can be designed to hold just about anything and one of their biggest advantages is that they allow consumers to see your product. Consumers are far more likely to buy a product if they actually can see what it looks like.
We have a myriad of versatile options for your clamshell and blister packaging, including the following:
1.Clamshells
Technically a clamshell is a blister pack that folds onto itself and this type of packaging can be used for many products and has many advantages. Clamshells can be well-sealed, using RF welding or heat sealing, to prevent damage from moisture and tampering. Of course, on the flip side, this tight seal can make it challenging for consumers to open clamshells. Still, if tampering has been a big issue for your product and packaging, a clamshell can be an excellent option. Keep in mind, that we certainly can design easy-open clamshells, as well as tightly sealed clamshells, depending on your needs.
2. Tri-Fold Clamshells
A tri-fold clamshell can be a versatile option, as the tri-fold design can allow your product to stand up on its own or, because it includes a peg hole, it can hang on a peg wall. Tri-fold clamshells also can be designed to stack nearly in a point-of-purchase. Since this package can be displayed in multiple ways, it makes it easy for retailers to find a way to display your product.
3. Trap Blisters
If you don't want a clamshell, blister packaging can be an excellent option. Trap blisters are a type of blister that have a front card and back card and the blister pack is sealed between the two cards. A custom cavity will surround your product, displaying it for consumers while protecting it from moisture and tampering. Trap blisters are a good option for heavier products, as other blisters are not as hardy and better for lighter items. Like sealed clamshells, these can be tricky to open, but we can design easy-open trap blisters with a die-cut in the back on the card.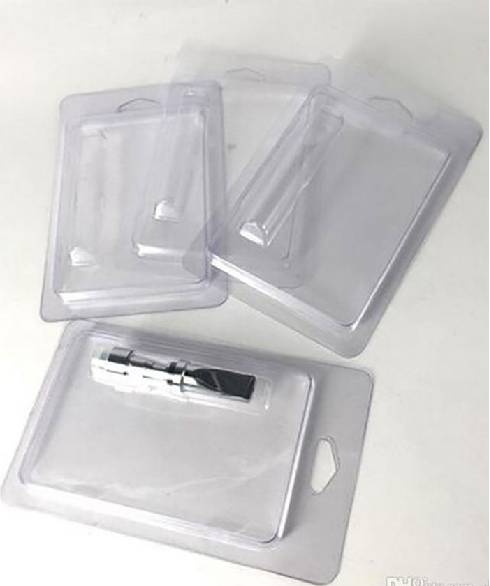 Blister Packaging
4. Full Card Blister
This type of blister also can be a good option for heavier items, as it contains a plastic blister on the front that extends to the edges of the paperboard card and then wraps around the edges a bit. The plastic will not be sealed to the card, but it can be attached in other ways, often with a staple.
5. Face-Seal Blisters
Face-seal blisters are one of the most affordable packaging options, and these can be a great option for lightweight items and low-cost items such as a small container of glue, lip balm, a toothbrush and pens, just to name a few. These blisters feature a paperboard backing and a small plastic blister, usually only slightly larger than the product, is glued to the paperboard. These are typically easy to open, yet still protect your products from dirt, debris, moisture and mold.
6. Full Face-Seal Blisters
A full face-seal blister has a bit more plastic that a basic face-seal blister. With the more basic option, we only use enough plastic to cover and protect the product, but with a full face-seal, the plastic extends to the edge of the paperboard. This can be affordable option for products that are a bit too heavy for a basic face-seal blister package.
7. Material Options
At Indepak, we can create Clamshell Blister Packaging using a wide range of thermoform plastic materials,Depending on your product and your budget, we will identify the most affordable option that suits your packaging needs.
8. Sustainability
These days, many consumers make choices based upon sustainability and just about every material we use at Indepak can be recycled. HDPE, PET and PETG can be affordable options that are especially easy to recycle, as these materials are accepted by curbside recycling programs throughout the United States. Additionally, we may be able to use starch-based bioplastics, which come from renewable sources. Using materials with recycled content is another option to consider. Trap blisters, which incorporate paper or pulp, are another sustainable option, as this uses less plastic than a clamshell. Be sure to advertise the recyclability and sustainability of your packaging somewhere on the label, so that eco-conscious shoppers will be aware of your commitment to sustainability.
9. Other Packaging Options
Of course, you might decide that clamshell & blister packaging isn't the best option for your product. We can design clamshells with multiple custom cavities to hold and protect every component of your product, and we also can take it a step further and design a custom thermoform tray with multiple cavities and place that inside of your clamshell for an extra layer of protection. We also can provide you with tubs and lids, which can be excellent options for specialty foods products, allowing the consumer to use just a portion of your product and then preserve the rest for another time.
If you want to buy, please contact the Clamshell Blister Packs Manufacturer