Compliance with cannabis labels and packaging plays an important role in helping companies comply with state regulations. Cannabis may have many benefits, but precautions need to be taken to prevent it from falling into the hands of children.
Children's anti-child sack can be used as a good export packaging, so its design has received unprecedented attention. The quality of the bag depends on its intended use, but includes child-resistant, opaque, resealable and sealable.
Comply with national regulations
As far as hemp is concerned, the need for high-quality packaging is the main consideration. Many state regulations require pharmacies to put hemp products in Childproof Mylar Bags.
However, consumers often take the purchased items out of these bags and put them in more accessible places. This is why manufacturers must reconsider their packaging strategies and provide containers that can meet all strict regulatory requirements.
Design: Many states require the use of cannabis packaging to display the logo of products containing THC, and clearly state the warning. Edible packaging cannot imitate any existing food, nor can it attract children.
Opaque packaging is necessary because children will be very witty when they get candy or chocolate. It may not even use colors or images that appeal to children.
Material: CR packaging bag must be made of strong enough material to prevent any attempts to tear and penetrate the packaging. It should also be opaque so that children cannot see the products inside. Hard materials need to be used to block light, moisture, air and bacteria, which can impair the quality of cannabis.
Closures: Obviously, closures play an important role. Many innovative closures are being designed, such as zipper closures with multiple locking tags, which need to be separated before opening the bag.
Not only do sacks need to be difficult for children to open, they must be resealable. Zipper locks are not only easy to slide open and close, they can also be specially designed to ensure that young children cannot open them.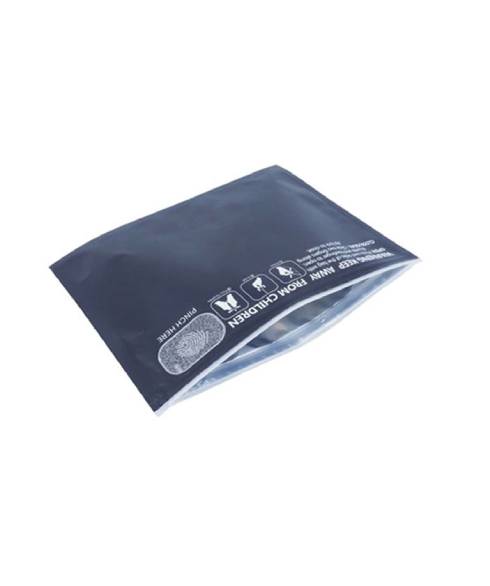 Childproof Mylar Bags
Protect the important quality of products
Deodorant: For many medical marijuana consumers, caution is important, which is why they like deodorant bags. There are many odor barrier bags on the market, and polyester film is generally used as the main component.
Airtight: Inferior sacks cannot prevent odor. If the bag does not emit any odor, it may be sealed. Sealed bags can prolong the life of marijuana, because contact with air will lose its effectiveness. When cannabis is exposed to heat, oxygen and ultraviolet light, cannabinoids begin to break down.
Opaque: Since hemp is sensitive to light, many polyester film sacks contain aluminum foil to improve light resistance.
Jute bag customization
It is difficult to stand out in the fiercely competitive cannabis industry, and custom packaging provides a way to achieve this goal. Manufacturers who want to expand in multiple states need to rely on customizable packaging.
Nowadays, big brands have invested heavily to ensure that their packaging expands the brand and is easy to identify. Visionary brands have come up with unique packaging solutions that can meet multiple goals at the same time, such as compliance with regulations, beauty, and brand image enhancement.
Design elements create brand opportunities. Not only can you customize the size of the big bag, you can also adjust the function, change the position of the zipper, remove or add tears, and so on. Provide various materials, colors and design options. Various printing options allow brands to choose to make eye-catching hemp isolation bags.
Environmental sustainability is one of the concerns of cannabis packaging companies. Hemp and recycled plastics are some of their solutions that can change the environmental footprint and provide valuable brand opportunities. Some companies use plastic recycled from the ocean to make bags.
Aesthetically, packaging can help one product outperform others on the pharmacy cash register.
Cost-effectiveness and choice of luxury brands: Unless they want to enter the luxury market, many companies want efficient, low-cost, and compatible packaging solutions.
Labels: Brands can increase transparency through labels and product information printed on the outside of opaque bags.
Predict the main trends in the future
By 2025, the Cannabis Packaging market is expected to reach US$297.51 billion. It is estimated that during the forecast period from 2020 to 2025, the compound annual growth rate is 22.59%. The increasing legalization of marijuana and the increasing demand for medical and recreational marijuana are driving the growth in demand and the demand for packaging.
National regulations will continue to strictly prohibit children from using packaging, closures and specific labels.
Due to the rapid popularity of edible foods, bags and sachets are expected to grow strongly. Flexible packaging is opaque, easy to transport, and reasonably priced. It provides more space for brands to display logos and designs, as well as brands that meet legal requirements. It is expected to continue to be popular and occupy a higher share of revenue.
Cannabis producers will continue to seek custom packaging to help them stand out from the competition and make their brands more well-known. From a regional perspective, there are five major medical marijuana markets. North America is one of the main markets for cannabis. The Asia-Pacific region is expected to show steady growth.
Final words
Concentrate Packaging Manufacturer need to ensure that the packaging is child-safe, opaque, resealable, properly labelled and tamper-proof in accordance with state laws. Other important qualities of sacks are that they are odor-proof and air-tight to protect the internal products and provide caution.
Many companies choose to customize their polyester film isolation bags so that they can easily identify and reflect their brand image. Due to the increase in the legality of cannabis and the increase in demand for medical and recreational cannabis, it is expected that the forecast of cannabis packaging will increase significantly in the future.