Packaging cannabis and cannabis concentrates is always a daunting task. These items are by nature highly sensitive and require varying degrees of protection. KUSHI, the manufacturer of concentrates, gives you an insight into the importance of cannabis packaging and the role it plays.
The best packaging materials
With regard to external boxes, cannabis packaging boxes made from kraft paper and cardboard materials are probably the better choice, they help to enhance the design visually and are also perfectly flexible and can be cut and shaped into any desired shape and size. As for the internal packaging bottles, the best material to use is glass jars. Glass is chemically stable and will not damage cannabis concentrates, and childproof jars will also keep your children out of reach.
With the legalisation of cannabis and recreational marijuana, the market for these products is becoming increasingly competitive.
The significance of design
Regardless of the nature of the product, the packaging is always one of the most important and decisive factors in serving to promote and sell the product. Many consumers believe that packaging is only there to protect the product, but in reality it serves multiple functions at the same time. When it comes to cannabis-related packaging and promotional items, customised cannabis packages are always the perfect companion for marketers because, in addition to their customisable nature that helps with promotional purposes, they are also superior in terms of protection.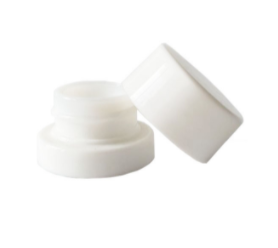 5ML CHILD RESISTANT CONCENTRATE WHITE GLASS JARS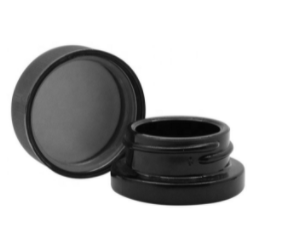 9ML CHILD RESISTANT CONCENTRATE BLACK GLASS JARS
Multi-purpose role
These bottles are always perfect for use in the spectrum because they can serve multiple roles at the same time. As well as marketing the brand in a superior way, they can be printed in a variety of formats to enhance the appeal of the product to the consumer.
1 Complaining to the law
Although CBD and recreational cannabis are now legal in the market, packaging such products is always one of the most difficult tasks. The packaging requirements for these products are governed by local laws and all box designs used for such products should be approved by the FDA. From printing technology to child-safe locks on lids, cannabis-based packaging has always provided product manufacturers with first-class and superior functional solutions to make packaging meet the exact product needs.
2 Fulfilling corporate social responsibility
The risks posed by global warming and climate are changing the market every day. More and more consumers now expect products to be sustainable and therefore must use sustainable and biodegradable options in their packaging. Our concentrate cans are made from high quality materials that meet recycling standards, so all you have to do is wash them and they can be reused. Helps companies to fulfil their corporate social responsibility due to the sustainability of the design.
3 It helps communicate with customers
As well as getting better feedback from consumers, communication is always important to boost a company's sales and reputation. It is important for companies to maintain proper communication with consumers and provide them with advanced facilities to use their products. Cannabis concentrate packaging is perfect for this process as it can be printed using a number of different options and all the details associated with the product can be printed on the cap for maximum convenience for the consumer.
Perfect for reducing costs
Product manufacturers are always looking for better and more efficient ways to package their products to help them save on packaging costs while maintaining the integrity of their products. Cannabis concentrate jars are probably the best in this process as they are made from glass materials and are perfect for keeping the environment clean in addition to keeping the product safe. They are also great for saving on packaging costs, can be purchased at low cost and are widely available on the market.
Please contact here and leave us a message about the product you're intersted in, and we'll answer you in lightning speed!