These days there are many different ways to package your pre-rolls, from customised cigarette boxes to child-safe slip boxes, but without doubt one of the pillars of pre-roll packaging is the humble but useful pre-roll tube.
A Pre-roll is a cannabis or blunt prepared in advance of the expected time of consumption. This is very convenient for the consumer. It is a popular cannabis product. Childproof pre-roll tubes and barrier bags are essential packaging products for dispensaries, cultivators, processors and brand owners. Pre-rolled tubes are available in a variety of branding options, which allows cannabis brands to customize the pre-rolled tubes to fit their brand perfectly.
So, without further delay, let KUSH explain exactly what a pre-rolled tube is.
What is a pre-rolled tube?
A pre-roll tube is a cylindrical container that is used to store pre-rolls while keeping the joint fresh and safe. Typically, pre-roll tubes are made of plastic (usually polypropylene), a type of plastic or glass. A number of new materials are being explored to create environmentally friendly pre-roll tubing options.
Polypropylene pre-roll tubing is a more economical option for cannabis brands. Most plastic polypropylene pre-roll tubes have the same opening mechanism - when you squeeze the side of the container near the top - the lid will open.
If you want to have the luxury of a pre-roll range or need to separate infused pre-rolls by packaging - you may want to use a glass tube. Traditionally used to elevate products to premium condition, glass has a strong, luxurious feel that cannot be replicated by other types of packaging.
If you want a more environmentally friendly tube option compared to standard plastic and glass tubes, use a tin box, a recyclable metal that can be used for other purposes. Our childproof tin boxes can be customised by direct printing or by a label with your own logo.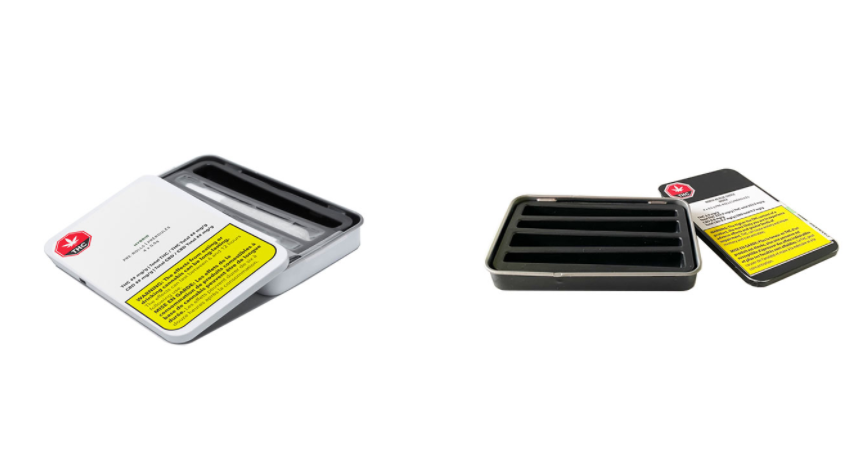 Child Resistant Pre-Rolls Tin Box For 0.5g Preroll
Screw cap glass pre-rolled tubes
The screw-top glass pre-roll tubes we offer at KUSH packaging are childproof and use push and swivel CR lids to hold the pre-roll pieces in place. Again, this is a very standard, easy to use childproof cap - it is the same mechanism we use to open aspirin bottles.
Some brands like the design aesthetic of a smooth, minimalist lid, while others like to make it simple for the customer by clearly stating so at the top of the lid.
Cork Top Pre-Rolled Tubes
Cork top glass pre-rolled tubes are not suitable for children. Only the cork is used as the sealing mechanism for the tube. Although this will provide an airtight seal, it is not suitable for use by children.
If the state requires child-safe containers for pre-rolls, brand owners will place these cork top tubes in child-safe boxes or bags to make them compliant.
Qingdao Kush Packaging strives to be a one-stop provider of cannabis packaging solutions for cannabis packaging wholesalers and cannabis producers, growers or cultivators, and dispensaries. For purchase requests or custom printing needs, please send us a message.