Sometimes, when you browse your online applications, you may find products that you never thought would be so easily available online. An online e-commerce site is no longer just a store. Almost anything can be found at any time. New products enter the market every day, causing a sensation and sometimes disappearing without a trace. But with the latest craze, CBD packaging products will continue to exist.

What on earth is CBD?
CBD, also known as cannabinol, was first discovered in the 1940s. It contains 40% cannabis plant extract and is then mixed with carriers such as hemp seed oil and coconut oil. According to some studies, CBD has a variety of therapeutic applications. It shows great effect in relieving pain, reducing side effects of cancer treatment, reducing depression / anxiety, preventing diabetes, improving heart health, fighting inflammation and reducing seizures. Although it comes from marijuana, it does not contain tetrahydrocannabinol (THC), and tetrahydrocannabinol (THC) is the cause of the marijuana experience or what we call "high feeling".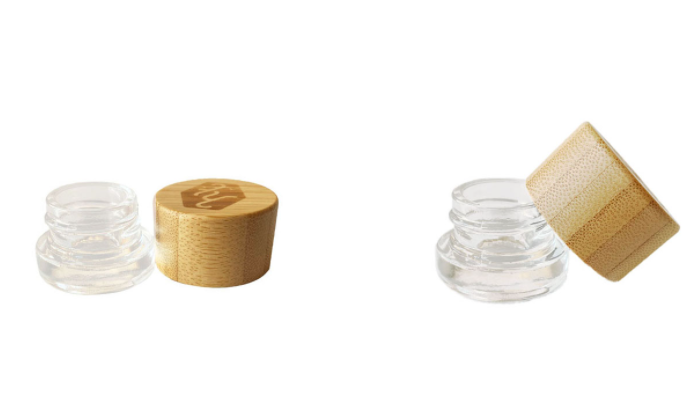 5ml Concentrate Glass Jar with CR bamboo lid
Why is it controversial?
Because it comes from cannabis plants or cannabis, it is in a legal grey area in many countries. But many organizations are still working to regulate and legalize these CBD products.
CBD products are typically available as:
Beauty and health products: some beauty creams, lotions, balsam, and even health vitamins contain CBD. It must meet the usual packing requirements, but no ingredients are listed.
CBD oil and tincture: like all other essential oils, it is packed in a dark glass bottle with an eyedropper. Must be properly stored in a cool place.
Supplements: most fudge and gels are packed in plastic or glass jars, just like other pills.
If you are already an CBD business owner or an aspiring business owner, it is important to ensure product quality. CBD products are mainly used by millennials. Therefore, the design of packaging must be colorful and abstract. It should talk about luxury and minimalism. Good descriptions, warnings, expiration dates and intended uses can easily attract their attention. But you must also be careful not to attract unnecessary attention.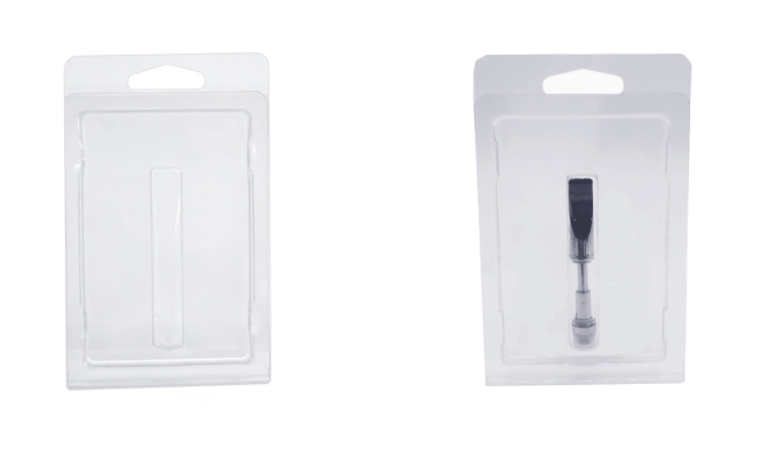 1ml Vape Cartridge Clamshell Blister Packs
Safely packing
Here are some ideas for choosing packaging materials to transport or sell products safely.
Envelopes
If your product is already made of plastic, or as small as lipstick or cream bag, then this is a good choice. It is flat, sturdy, and very cost-effective.
Box
if you want to transport oil and want it to be on a flat surface, then the box is a better choice. It can be filled with filling material to ensure safety. It can also be recorded for adequate branding and security.
Bubble Wrap:
this is very easy to use, but only for products with uniform shapes. It also applies to lightweight items. It also applies to envelopes, but not to boxes. .
Foam packaging
if your product is luxurious, heavy or has a unique shape, this is a good choice. But it can be the expensive side.
In addition, you must consider the external temperature when shipping the product. Most CBD products are not affected during the cold season because they can be thawed and used. However, some products are not heat-resistant, in which case it may break down before it reaches the customer.
At KUSH, we have customized shipping boxes of any size. It solves the purpose of combining design with durability. In addition, you can choose the correct size of the box, which can save a lot of transportation costs. Please feel free to contact us.