In key industries, the primary purpose of packaging has always been to protect and preserve the product inside. The same is true for cannabis packaging, especially with the myriad of laws and regulations that are in place in every state. The fast-growing cannabis sector requires brand awareness, so cannabis packaging solutions can help your business in a number of ways, without compromise.
Compliance
Due to the varying laws and regulations in each legalized state, packaging for the cannabis industry is very different compared to other businesses. Proper cannabis packaging should include properly marked product safety warnings on childproof (CR) certified containers. Various guidelines highlight other important regulatory components, such as opaque packaging, labels that do not appeal to minors, and lack of similarity to commercially available products.
The legal landscape for cannabis is complex and ever-changing, so companies should be prepared to modify their compliance practices as necessary.
Sustainability
The legalization of cannabis nationwide has triggered greater and more widespread commercialization, ultimately increasing the amount of waste generated by the industry as a whole. Waste is generated at all stages of the commercial cannabis lifecycle; cultivation, packaging, transportation, distribution, and finally, the end consumer.
Whether you are a business shipping product nationwide or a consumer buying from a range of dispensaries, waste can be reduced through intentional packaging design.
Combining sustainability and business operations with packaging that optimizes space and materials can reduce the carbon footprint of businesses and even consumers. This looks like recyclable packaging, or better yet, quality packaging designed to be reusable.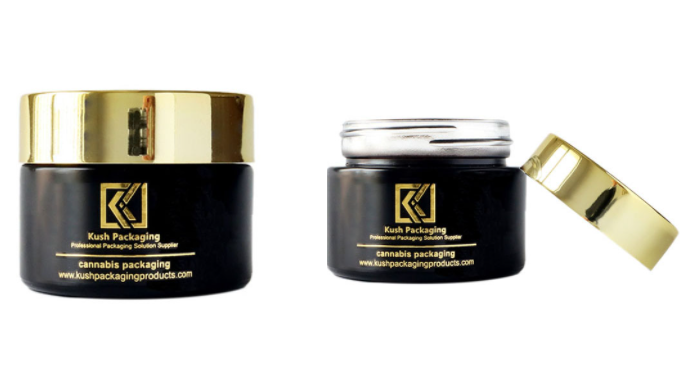 oz child proof matte black glass jar with gold lid
Consumer Benefits
When consumers go to a dispensary to purchase a quality product, quality comes first. Cannabis quality should correlate with what customers pay, and in many states, they pay quite a bit for products they want to smell, touch, taste and smoke, just like the day they grow it. With cannabis, the packaging directly affects the quality and longevity of the product.
For all cannabis products, especially flower, packaging that controls the humidity in the container works wonders to keep the plant fresh. Terpene preservation is also critical for many consumers seeking a medicinal experience from the aromatic oils contained in cannabis, and these can also be affected by humidity levels.
Seasoned cannabis enthusiasts know that the quality of cannabis can be indicated not only by the effects, but also by the initial experience of unpacking and inspecting the product. kush offers you beautiful blocks, delicious cannabis food, clean cannabis concentrates, and absolute child safety.
Please contact us today to purchase cannabis related products in flower packs, pre-rolled packs, glass bottles and plastic bottles.